The perfection of sensuality: that is exactly what our exclusive cushions, upholstery, textiles and decorative articles stand for. Not only do they ensure luxurious comfort but their quality, elegance and outstanding functionality is convincing as well.
Claus Bruns has more than 40 years of international experience in the field of yacht equipment. The standards for upholstery and textiles used outdoors on board ship are extremely high: with quality and exclusive comfort, they must withstand moisture, wind and strong sunlight, with no loss of shape in the course of ongoing use. That is what our innovative concept accomplishes: the upholstery is made from a combination of various breathable foam materials and a special water-repellent cover has been developed as well. Weights that are neither visible nor perceptible are also integrated into the decorative cushions so they stay in place on the sun deck.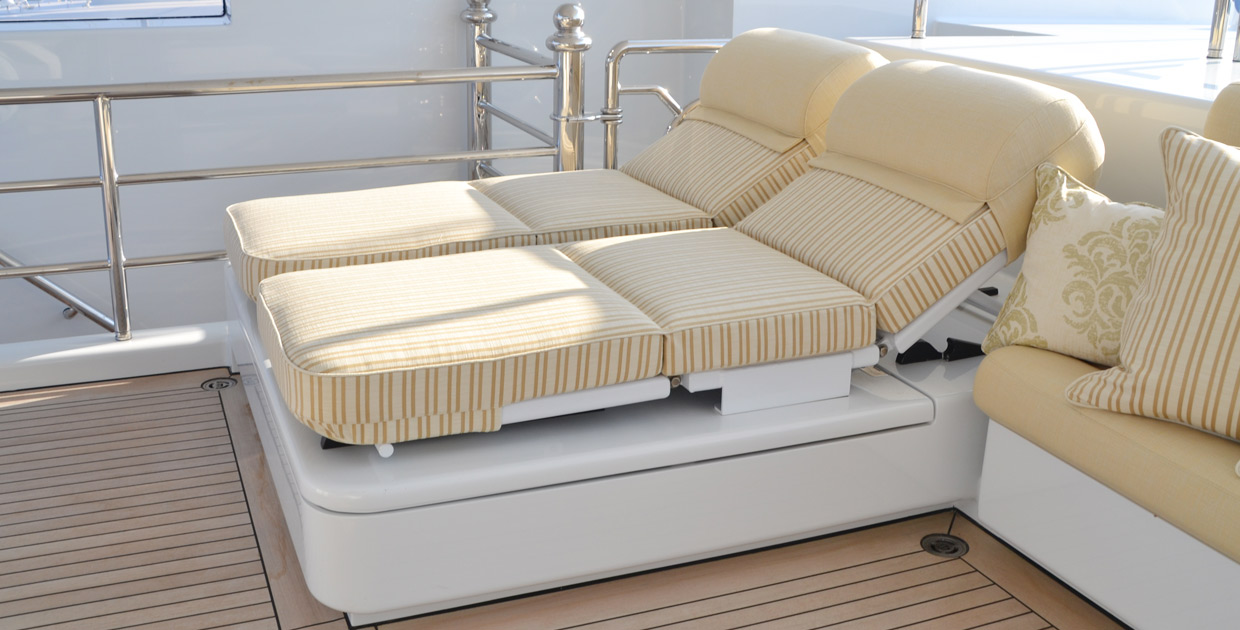 We equip the vessels of our customers worldwide with materials of the highest quality, placing great emphasis on realising the wishes of the owners and designers down to the last detail. None of our articles are off the shelf. Experts and manufacturers from various disciplines work hand in hand to create our unique textiles. Naturally we visit you on board to capture the typical character of the vessel and to take measurements. We prepare technical drawings and sketches with the latest computer software and create various templates. Only then does the actual fabrication of the products begin in the very best and traditional manual craftsmanship.
Our portfolio includes a wide variety of cushions, upholstery, exquisite seating furniture, curtains, awnings, sun protection systems, rugs and many other textiles and decorative articles that are part of luxurious living on board a yacht. We only use select materials such as high quality fabrics, premium leather and elegant cashmere. In addition to a flawless appearance, we emphasise ultimate functionality and the durability of our products. Extensive accessories are available for all products, such as sun protection covers or rain covers.
We are your partner of choice for the original equipment or refitting of yachts.
Talk to us.